EnLabel – The Efficient Label Design Software
An efficient label design software for all Microplex cutsheet and continuous laser and thermal printers.
EnLabel provides a complete, user-optimised label design packet with an intuitive user interface. In addition to fixed elements such as text, barcode, lines, boxes, ellipses, it's possible to process graphics and variable data. Variable data can be processed depending on the requirement of the label i.e. via database connection and macro scripting. The separate print program gives access to the finished designs but no facility to carry out amendments, hence increasing the security of your application.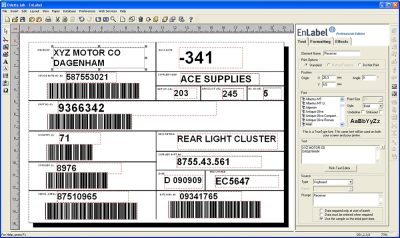 Screen EnLabel
Main Functions
EnLabel supports all important functionalities which are expected from a mature label design program.
Fixed data such as text, barcode etc.
Variable data such as automatic numbering, sequential numbering, and database contents, etc.
Variable data input via keyboard during printing
Flexible Database connection (ODBC, OLEDB, Access, Excel, Lotus, Oracle, uvm.)
Graphic elements, pictures (Jpeg, TIFF), symbols etc
Many templates designs are available as standard like VDA; Odette, Logisticl, GHS,…
Program Versions
There is a custom module for each of your requirements:
EnLabel Basic – Label design with full functionality without database functions
EnLabel Professional – Label design with full functionality, including database functions
EnLabel Print Only – Selection; previewing and printing EnLabel designs without editor
Applications
Labels are used worldwide in many applications. EnLabel also supports your application through an advanced, intuitive handling. Labels from the field of distribution, production, logistic, sales, medicine, etc. can be designed quickly and easily with numerous of templates.
You can find a more detailed description of the software in our Know-how section under EnLabel – The Efficient Label Design Software
Download Free 30 days Full Version
For testing the functionality of EnLabel you can download a FREE 30 day demo version of EnLabel Professional.
Download the current version as a demo here. After installation, all functions are available to you for 30 days without restriction.
If you are convinced of EnLabel after this time, you can activate your version directly via the online store and continue to use it without any restrictions.