Solutions » Integration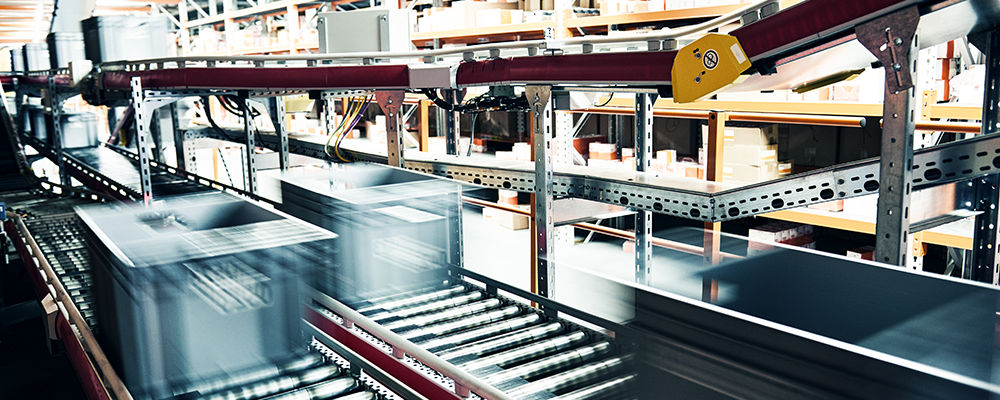 Solutions for Perfect Integration
Maximum Integration into Seamless Inline Production & Logistic Processes
Seamless Integration into Production and Logistic Lines
Microplex printer solutions are increasingly being used as an essential part of an overall solution together with the manufacturer of a logistics system, such as in the field of logistics, retail, e-commerce or even in the newspaper & print industry.

The areas of application range from individual product labeling, to perfectly assigned invoices for the associated package, to the personalization of documents and their assignment.

Depending on the requirements of the respective application, our Microplex printers, regardless of the printing technology, are implemented to fit the application exactly. Communication interfaces such as GPIO as well as status-out enable optimal and seamless integration into such conveyor systems or production and logistics facilities.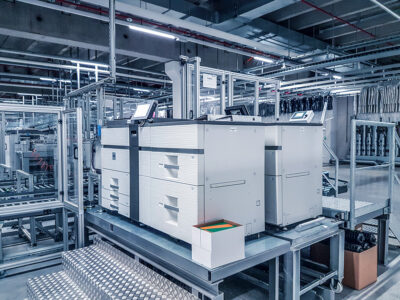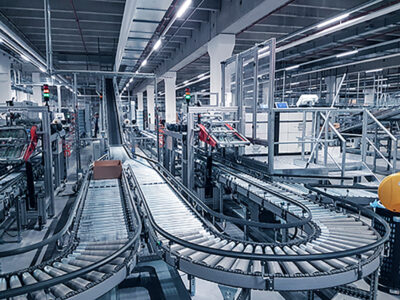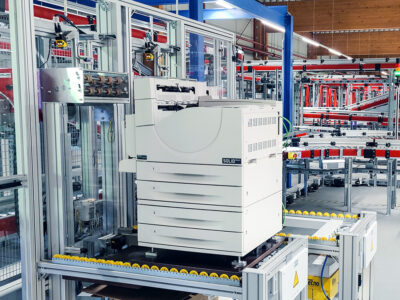 The right printing system can be found for every application in terms of time, printing speed, connection and size.
Field of Application
Use for product labeling
Integration in packaging lines
Integration in shipping lines
Integration in logistics facilities
Highlights at a Glance
Seamless integration into production lines
Laser- and thermal printer available
Fast timing (from 2 seconds/page delivery)
High degree of freedom for programming
SAP®- and AS/400-compatible (through PCL5 + JetCAPS as well as LAN-IPDS)
Compatible with standard laser printers
Our Expertise
Interested in a customized solution?
---
GPIO and Status-Out as essential requirement for integration
In the modern plant control system, all connected devices are controlled and synchronized via signals. This ensures a smooth process and enables fast and appropriate reactions in exceptional cases. In many production and logistics facilities, these devices include printers, including thermal and laser printers.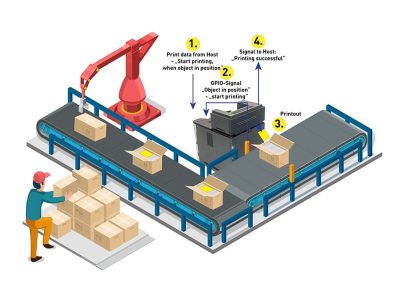 GPIO-Skizze with-SOLID_52A4
Microplex printers can be connected directly to the plant control system via the so-called GPIO interface (GPIO = General Purpose Input/Output). This can be, for example, a packaging machine, an inserter, an order picker or an applicator.
The printer communicates bi-directionally with the plant control system.
The document to be printed is output "on-demand" and "just-in-time" and assigned to the package on the logistics line, for example.
By means of software feedback protocols , the system can be informed by the printer in case of a malfunction, but also about the successful printing of the required documents. This process is achieved with Status-Out and is optionally available for every Microplex printer.
In addition to the hardware and software feedback, Microplex also offers the option of connecting a signal or traffic light system to the (conveyor) system or the printers for visualization of the print status. In this case, the status of the print can also be made visible. This ensures a smooth flow in the production of the documents.
Would you like to learn more?
---
Examples for Various Application Areas
Nowadays, centralized logistics centers are increasingly replacing decentralized logistics warehouses. This significantly increases product availability, as items are not assigned to a specific distribution channel until the product is picked. This means that the right articles can be offered at the right time across all available distribution channels.

In this application example, a key area is invoice and label printing, which is individually controlled and must be printed at the same time as the item arrives on the packaging line. These documents are then automatically fed to the shipments as soon as a carton arrives at the document inserter.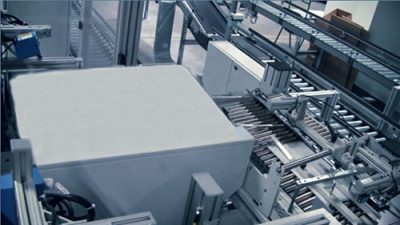 Document Inserter
To ensure this, several points were crucial: the possibility of implementing a tandem solution with 2 printers for maximum line utilization, a high paper capacity, a robust printing unit for several hundred thousand pages per month, and the possibility of intelligent communication with the system and the document feeder via GPIO interface (PLC control / programmable I/O), status-out and SNMP. These requirements are optimally met by our SOLID 105A3-2 and its device variant SOLID 120A3-2.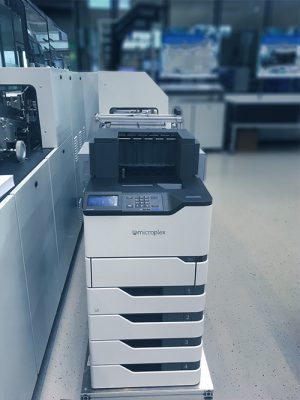 Example Microplex SOLID 52A4 Integration
In another application, in this case our SOLID 52A4 is an integral part in a facility for processing personalized sensitive products, such as ID cards, passports and credit cards.

Accompanying documents with instructions, the passport number, a reference number, a barcode as well as a QR code for shipping must be printed in high quality with high security standards.

The requirements include printing A5 paper at 200 g/m² with duplex option as well as face-up option. In addition, seamless integration into the application must be ensured through the use of GPIO and Status-Out.

This guarantees a secure workflow so that the printouts are processed error-free and efficiently in secure connection with the databases.
Another requirement is the use of additional paper trays so that the paper supply does not have to be replenished within a print run. The Microplex SOLID 52A4 meets all these requirements.

Further examples of system integration can be found, for example, in the areas of Logistics, Retail, eCommerce, and Newspaper & Print Solutions.
Ready to increase your efficiency?
---
Various Configuration Options
The Microplex printers with their multi-intelligence controller have a wide range of configuration options. The printers can thus be individually adapted to the planned application.

Over 40 printer languages (emulations) can be selected and configured. In addition to software feedback via SNMP and Status-Out, electrical signals can also be used to control and monitor the printers.
Individual control of the print output via electrical signals with 8 inputs and outputs (GPIO / PLC control)
Monitoring of printer status and print status via SNMP and Status-Out
Individual feedback via the data channel (Status-Out)
User-friendly configuration via web panel (website)
Modern WIFI interface with all current protocols, security standards and authentication standards (IEEE 802.1X)
Printer Languages (Emulations) & Barcodes
For perfect integration into your logistics facilities, Microplex printers have a range of selectable printer languages that you can use for your application. Microplex printers understand and process common printer languages such as IGP/PGL, PCL5, Zebra ZPL, Labelpoint, PDF direct printing, but also languages for special applications such as QMS Magnum CODE V, IPDS, Lineprinter. This also applies to common barcode standards, such as Datamatrix, or QR Code.

A detailed overview of our printer languages and barcodes can be found here: Printer Languages (Emulations) & Barcodes
Customized Firmware Adaptations
If the wide range of configuration options is ever insufficient, we work with plant engineers and system integrators to adapt our controller firmware individually and customize it to the customer's needs.
---
Application Brochures & Spotlights
Our Solutions