Products » Thermal Printers » logiJET TM4
logiJET TM4 Thermal Printer
The logiJET TM4 stands for wireless mobility in production and warehouse logistics. It has a DC power supply for battery connection with 12 V, 24 V, 48 V DC and an AC power supply for connection to voltages of 100 – 240 V AC.
With the optional WLAN, the logiJET TM4 mobile thermal printer from Microplex can be used flexibly at any location.
Further interfaces such as USB, Centronics or the serial RS232 / RS422 extend the range of applications enormously.
Thus, the logiJET TM4 can be used both as a stationary printer at a fixed location or, if the application changes, it can also be attached to a forklift truck or mobile workstation.
At the same time, the printer can be used for both direct thermal printing and thermal transfer. So you get a cost-effective "4-in-1 just-in-time printer" that can be perfectly tailored to your application.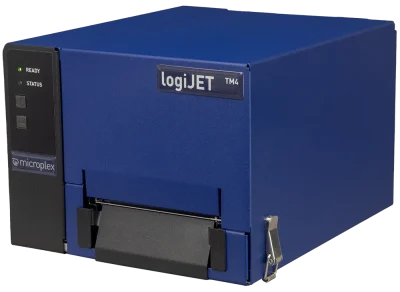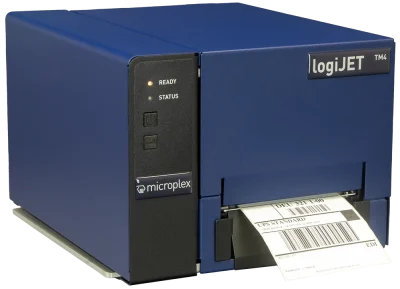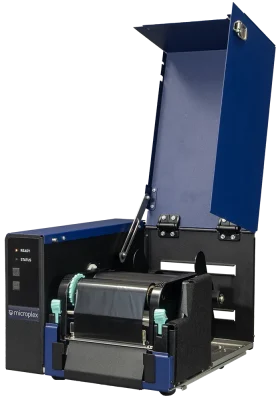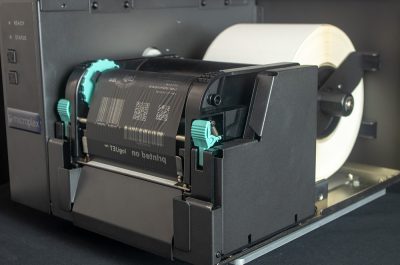 Perfect for:
Mobile Work Stations
Mobile Vehicle Printer (Forklift)
Packing stations with limited space
Locations with high dust load
Individual marking in production, warehouse and dispatch
Our Expertise
Do you need more information?
Robust Metal Housing & Useful Accessories
Metal Housing
The robust metal housing withstands the toughest industrial use, is shock-resistant and effectively protects the inside label roll from dust and dirt. This ensures a long product life and trouble-free operation.
Optional Mounting Plate
Expand the mobile label printer with an optional mounting plate. This allows it to be easily mounted on mobile platforms such as fork trucks.
The device can be removed from the vehicle very easily for e.g. maintenance purposes with the help of a quick release device without having to loosen screws.
The vibration dampers, which are specially adapted to the unit, effectively decouple the mounting plate from vibrations or impacts of the mounting surface.
For maintenance purposes, you can detach the unit from the mounting plate without any tools.

Optional Cutter
An optional cutter can cut the pages of a print job either individually or as an entire job. A "peel-off" option allows labels to be automatically separated from the liner, making it very easy to remove a label and apply it to the goods. This can be easily performed even when wearing work gloves. The further details on the technical data can be found on the logiJET TM4. data sheet.
Various Connection Options
By default, the logiJET TM4 has an USB and Ethernet interface. In addition, a serial RS232 or RS422 and an IEEE 1284 (Centronics) interface are optionally available.
An optional WIFI interface is available for the connection to modern wireless networks. This is connected directly to the Microplex Multi Intelligence Controller.
The Microplex WiFi Interface offers numerous features:
WIFI 802.11 b/g/n
Up to 150 Mbps Transfer Rate
WPA/ WPA2, WPA – PSK/WPA2 – PSK, WEP (64 bit, 128 bit) ecrypttion
IEEE 802.1X Authentication Standard
The logiJET TM4 understands more than 40 printer languages (emulations), including laser printer languages such as PCL5 and Kyocera Prescribe.
Even the major thermal printer languages such as Datamax, Zebra ZPL, Printronix IGP processes the logiJET TM4 without complaint.
Printer Web Interface
The logiJET TM4 can be conveniently configured and monitored via the printer-internal website. The individual printer parameters are accessible on clearly arranged single pages. Thus, the logiJET TM4 can be very easily adapted to the respective application.
Printer status messages can be retrieved via SNMP or the optional status-out function. Thus, the control center or IT is informed at all times about the current state of the printer and can react immediately in case of faults and initiate actions in a timely manner, without a direct presence at the printer location is necessary.
Highlights & Features
Mobile Applications with 12V, 24V or 48V
AC Power Supply: 100 – 240 V
Compatible with: PCL5, IGP, IPDS, PDF®, ZPL II, etc.
WiFi optional
Laser printer compatible
SAP® und AS/400-compatible
Compact design, robust metal case