Products » Thermal Print Modules » PM-T8
A4 / 8 inch Print Module PM-T8
The 8 inch print module PM-T8 from Microplex is characterized by its compact design, its high stability and the multi-intelligence controller for controlling systems and processing complex print data streams. Experience from years of industrial thermal printing has gone into the development of this module. High-quality thermal printing as well as direct thermal printing are a matter of course, as well as professional configurability and synchronization with upstream and downstream equipment (GPIO/SPS control). With the Microplex print modules, you can realize professional and fully integrated printing for your system in the shortest possible time.
Modular design – high flexibility
This modular concept allows many degrees of freedom in the design of the planned system. The printing system consists of several modules. These individual modules allow very flexible positioning within the overall system.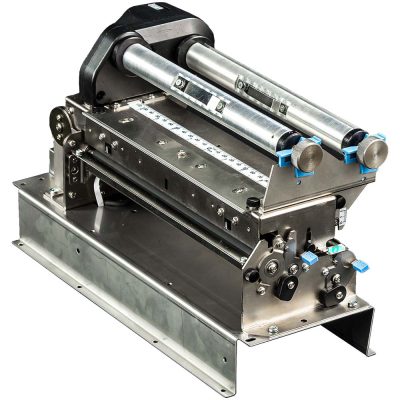 Perfekt for:
Integration into production lines
Individual adaptation to customer systems
Position-independent mounting in plants
UHF-RFID labels (optional)
The printing system essentially consists of the following modules:
A4 thermal transfer/thermal direct printing unit
Microplex multi-intelligence controller
Adapter board
Power supply
Monochrome control panel (optional)
Data Sheet & Driver
Application Brochures