Solutions » Banking & Financial Solutions
Banking and Financial Print Solutions
When your prints are worth cash, security is key – even with the printer!
When printing monetary documents, the highest security counts, making misuse impossible. With our professional laser printers such as SOLID F40, SOLID 60E-2, SOLID 85E and SOLID F140 you can print checks, vouchers, value coupons and any other type of monetary document endlessly – and thus in uninterrupted serial number circles.This makes it easier to control your printouts and more difficult to misuse them.

The built-in Microplex Controller is compatible with all common standards. Its high computing power also ensures rapid working speed. Microplex printers stand for easy integration into any existing system environment, fast working speed and high reliability.
Field of Applications
Check Printing
Report Printing
Secure printing on continuous and cut-sheet media
Printout of sensitive data
Highlights & Features
Adaptability to customer-specific systems
Support of various printer languages (e.g. PCL5, IPDS, PDF)
High print quality (600 dpi)
CMC7 and E13B fonts available (MICR printers)
SAP® and IBM® compatible (through PCL5 + JetCAPS and LAN-IPDS)
Replacement of line printers with modern printing technology, without adjustments to the application
Our Expertise
Security in demand – even for printers?
MICR Print Out
With a Microplex MICR printer such as the SOLID 58E MICR fanfold laser printer or the SOLID 52A4 MICR cut sheet laser printer, you are well equipped to meet the demands of reliable and legible MICR printing. Microplex MICR printers use specially optimized MICR toner with high accuracy and quality for 600 dpi printing.

Microplex offers MICR fonts E13B and CMC7 so you are ready to print bank checks, vouchers, coupons, etc. with excellent legibility.

With a range of line matrix printer emulations including IGP/VGL, Epson FX-80, Ansi Genicom, CODE-V, MT-600, IBM® Proprinter and IPDS, it's easy to "plug-and-print" to replace existing line printers.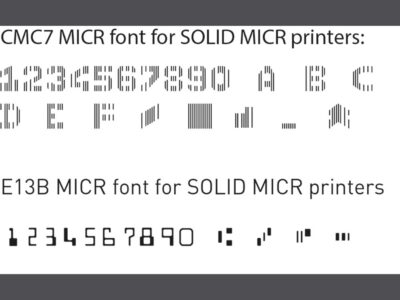 Example for MICR Fonts
No Need to Change the Application
Microplex SOLID MICR printers can print complex and variable data that contains many data and graphics. Unlike to most line matrix printers, where the printing speed is reduced to achieve a slightly better print quality, the Microplex MICR printers maintain its maximum speed. Therefore the SOLID MICR printers reduce the actual printing time significantly and keep the high quality at 600 dpi.
Maximum speed for variable and complex data (e.g. graphics)
Less printing time compared to line printers
High-quality printing with 600 dpi at maximum speed
Cost-effective
Our Solution