Products » Continuous Laser Printers » SOLID 85E
SOLID 85E Continuous Laser Printer
The SOLID 85E has a maximum paper width of 18 inches. This allows two A4 paper formats to be printed side by side (two-up). The paper tray included in the basic price can hold up to 3,000 printed pages (at 64 g/m²).

The non-contact flash lamp fusing by means of a xenon flash lamp (cold fusing) in combination with the straight paper path enables the processing of printing materials up to 204 g/m². Different, even thermally sensitive materials such as PVC, PE, labels etc. can be processed.

The high print resolution of 600×600 dpi guarantees a sharp-edged display of even the smallest graphics and (2D) barcodes. The powerful Microplex controller supports over 40 printer languages (emulations), including PCL5, IGP, Code-V, IPDS, PDF direct printing and many more.

The SOLID 85E offers all necessary printer languages to directly replace no longer available printers such as Printronix® L7032, IBM® InfoPrint® 3000, IBM® InfoPrint® 4000, IBM® InfoPrint® 6500, IBM® InfoPrint® 100, IBM® InfoPrint® 75, OCE® Variostream, Okidata® ML series and SOLID 32E.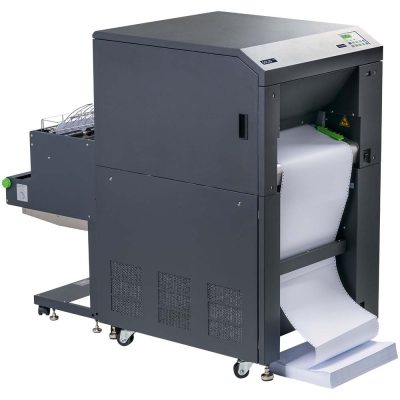 You connect the SOLID 85E directly to spool systems such as BlueServer® or PRISMA® no external drivers or boxes are required as the SOLID 85E directly supports IPDS and PDF print output.
Perfect for:
Label batch printing
Ticket printing
Business and logistics documents
Replacement printer of choice for discontinued laser printers
Perfect upgrade from matrix printers to laser
Our Expertise
Need an individual consultation?
Highlights & Features
Prints on paper, PVC, plastic, etc.
USB, Ethernet (10/100 Mbit) as standard
Laser and matrix printer compatible
SAP® with the standard PCL5e emulation
Perfect control via Status Out
Optional IPDS emulation making it the printer of choice for IBM® solutions
Continuous Laser Printers