News » Latest news » Empowering Long-Term Partner Precision P…
27. June 2023
Empowering Long-Term Partner Precision Periphals Ltd. through Immersive Training
Another successful hands-on training session was recently held at Microplex for our long-term partner, Precision Peripherals Ltd. This comprehensive training opportunity allowed us to deepen the understanding of our product portfolio, covering sales perspectives and technical aspects. We welcomed two dedicated representatives from Precision Periphals Ltd., one specialized in sales and the other with technical expertise.
The training sessions focused on practical, hands-on experience with our cutsheet, thermal, and continuous laser printer range. Our goal was to provide a comprehensive understanding of applications, unique selling propositions (USPs), and share valuable technical insights and tricks.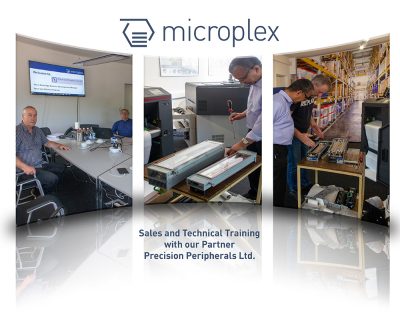 At Microplex, we recognize the importance of tailoring our training to meet the specific needs of our partners. Our training schedules are customized to ensure our partners gain the skills and expertise to serve their customers and achieve their satisfaction.
If you are a certified partner and have not yet scheduled your next training session, we encourage you to get in touch with us. We are looking forward to welcome you soon at our headquarters and provide you with an exceptional training experience!