News » Latest news » PDF® Direct Printing - 1:1 printout of …
23. April 2022
PDF® Direct Printing – 1:1 printout of the original document
The PDF® format allows you to encode all of the document elements into one, simple digital file. This is important because the document retains its graphical integrity. The printed document is looks exactly as the designer or originator intended.
For example, you can encode the paper size of your document, fonts, and barcodes. This is essential for the warehouse or industrial environment. A barcode that is not scannable disrupts workflow and production.
It's also improtant for hazardous material label printing. The colors, pictograms, and fonts must comply with GHS standards.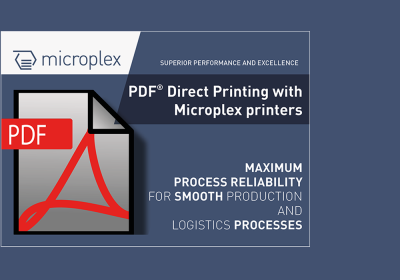 GHS stands for "Globally Harmonized System," an international standard the United Nations created for the unified classification and labeling of chemicals.
Windows® drivers tend to add their own layer of "interpretation" to a print file. A slight change in printed output from the original may be acceptable in flyers or PowerPoint slides. It is not acceptable when printing barcodes and GHS-compliant labels. With Microplex printers using the latest controller generation (MPC 3.4, 3.6, 7.1, 8.x) print PDF® data directly. PDF® data output is unchanged. Your client receives a 1:1 printout of the original document.