News » Latest news » Solutions for PDF direct printing with M…
14. October 2021
Solutions for PDF direct printing with Microplex printers
Microplex offers a wide range of printers across all technologies with PDF® direct printing. This allows users to print PDF® documents directly without opening the document in an application and without the need for an additional driver. Common applications such as PDF® Report Printing or PDF® Label Printing require a high standard of readability and security, which we ensure.
Your advantages with Microplex PDF® direct printing:
Compatible with common ERP systems such as SAP® and other hardware and software system environments
PDF® data remains unchanged
Barcodes are printed in the intended ratio in the resolution of the printer
Printing of encrypted PDF® files possible
Support for paper handling function that allows the user to give individual paper handling information to each print job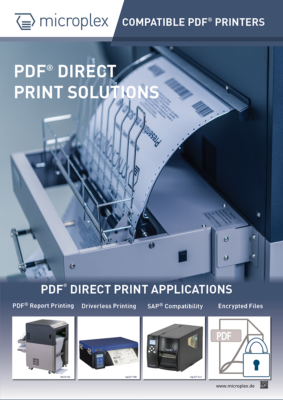 But not only standard applications are possible with Microplex. Integrating the printers into production lines and conveyor systems with PDF® Direct Print is also easy to setup.