Know how » InfoPrint® Replacement with Microplex
InfoPrint® Replacement with Microplex
Upgrade Your Printing Experience with Microplex: InfoPrint®/IPDS Printer Replacement
Are you looking to upgrade your InfoPrint®/IPDS printing setup without the hassle of changing your existing infrastructure? Microplex is the place to find everything you need! We offer an innovative solution that allows you to replace your printer while maintaining your existing workflows with ease.
Streamlined Replacement Process
Our comprehensive product portfolio is tailored for InfoPrint®/IPDS environments, making it easy to find the right printer for your needs. Our industrial Microplex Continuous Laser Printer (SOLID F40, SOLID 60E-2, SOLID 85E, SOLID F140) are compatible with IBM®/Ricoh® printers, so you can seamlessly continue using your IPDS or AFP data streams.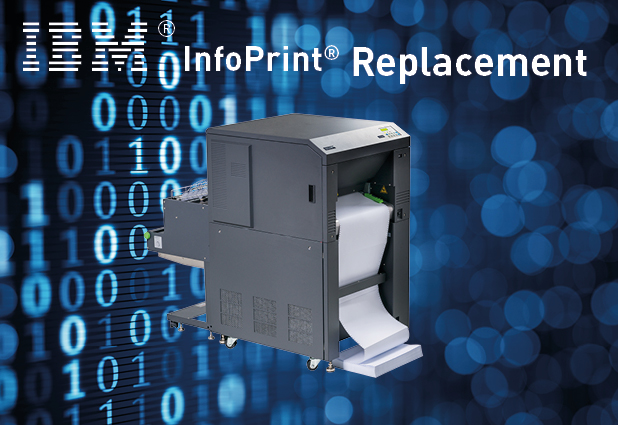 We also offer a simple and straightforward installation process that can be completed in a matter of hours. Our team of experts will work with you to ensure a smooth transition, and we offer local partner support to help you with any issues that may arise.
Simplified Integration
Our Microplex printers integrate seamlessly into your existing setup, eliminating the need for complex converter boxes. This means that you can get up and running quickly and easily, with minimal disruption to your operations.
Future-Proof and Secure
Our Microplex printers are future-proof and secure, so you can be confident that your printing needs are met for years to come. They support a wide range of emulations, including IPDS, PCL5, and PDF direct printing, so you can be sure that your applications will continue to work seamlessly.
Expertise You Can Trust
Microplex has a proven track record of success in the IPDS market, with over 30 years of experience. We have a team of experts who are dedicated to providing you with the best possible printing solution.
We offer a free consultation to help you assess your needs and develop a custom solution that meets your specific requirements.
Learn More
To learn more about how Microplex can help you upgrade your printing experience, please visit our website or contact us today. We would be happy to answer any questions you have and help you find the right solution for your needs.
Unlock a new era of printing efficiency and innovation with Microplex.
You will find more information in the following downloads or on our website following the link InfoPrint®/IPDS Printer Replacement or Replacement.
Our Expertise
Need a replacement printer?