News » Latest news » Smooth Just-In-Time eCommerce Printing S…
23. September 2021
Smooth Just-In-Time eCommerce Printing Solutions
Ordered today, delivered tomorrow.
We have become accustomed to the fact that almost all the goods we need, whether for personal or professional use, are available at any time. From everyday groceries, drugstore items, new shoes and clothes to home improvement items or even cars, we are all shopping online more and more. And these items need to be shipped in a timely manner.
Anyone involved in this process – whether it's for shipping labels, invoice printing or anything else – needs an adequate eCommerce printing solution. We offer the right printers for different applications.
Direct communication between the printing solution and the mainframe system is also very important, as it guarantees perfect utilization of the shipping lines. Microplex printers have a number of communication channels, especially our GPIO- and Status Out option. With the help of these communications, smooth cooperation in the overall system can be ensured page by page.
More information about our printing solutions on our website: eCommerce Print Solutions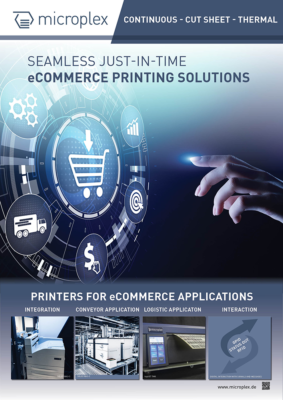 Do you have any questions? We are happy to advise you! Please contact our sales team at sales@microplex.de