News » Latest news » Microplex Thermal Printer SOLID 45ET-2…
18. March 2022
Microplex Thermal Printer SOLID 45ET-2
A Thermal Printer of a Special Kind
The Microplex SOLID 45ET-2 is a very different thermal printer. Its paper tractor feed system is constructed for highest functional reliability and for secure, trouble-free paper feeds at all times. This enables the perfect integration into packaging lines. Perfect synchronization of every printing with the packing line (and i.e. allocating it to the correct newspaper stack) is given throughout optional GPIO if needed.
The immediate start of printing and the high printing speed ensure a high throughput of your system, in start-stop operation or in batch printing. As on the picture we also supply an optional signal system for the printer to visualize the current printing process for "online/ready to print ", "busy/in printing process" and "offline/error".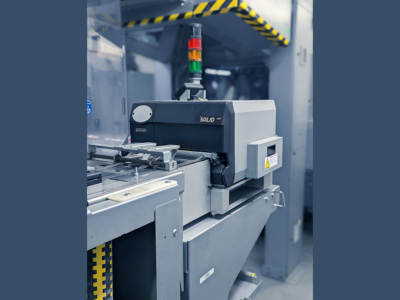 Any operational disruptions can be detected immediately and be solved as quickly as possible. Status-Out for further feedback protocols can be activated optionally, too.
Due to our ability to understand 40+ printer languages the SOLID 45ET-2 is compatible to common hard- and software system environments. No further adaptations are needed. The 'Dual Tractor' system allows for fast, interruption-free printing – or for printing on two different media types.
You need any more information? Visit our website: Newspaper& Print Solutions or get in touch with our sales team!